On-premise and On-cloud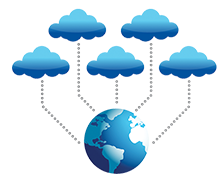 Emada is a cloud-based SaaS (software as a service) system. This means you avoid the huge capital expenses of an IT infrastructure. There is no need to develop in-house expertise.
On-premise we install a physical server farm on your server – or alternatively can install a virtualized server farm on Microsoft Azure.
With no IT infrastructure, the need to pay 3rd party licenses are greatly reduced. You also eliminate infrastructure costs such as networks, servers and firewalls.